Firstly - If you are considering starting a new fitness regime, it's always best to seek your doctors advice first. This calculator doesn't know your medical history, only you and your doctor knows that, so check with your doc before starting.

This online Body Fat Calculator makes it ultra simple to calculate your personal body fat percentage.
 
All you have to do to work out your body fat percentage in just seconds is enter in your current weight in pounds, your waist size measured in inches, and if you are a female then your wrist size, forearm size and hips size, then press the calculate button.
 
Once you have your result, you can look at the charts below and see what your own personal body fat percentage score actually means.
How much body fat is healthy?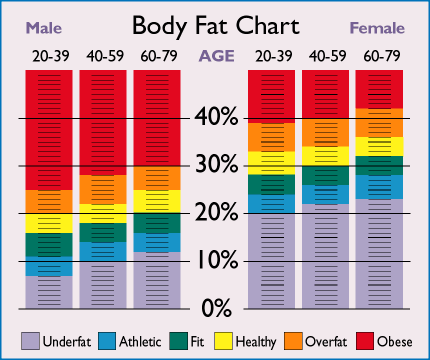 Would you ike some boxing lessons? - Or better still, some FREE boxing lessons?
I have compiled a FREE 12 part course of boxing lessons that will be sent directly to your Email address.
A free gift to all site visitors from ScotBoxer
You can get your free course of boxing lessons on
this page
of the site.